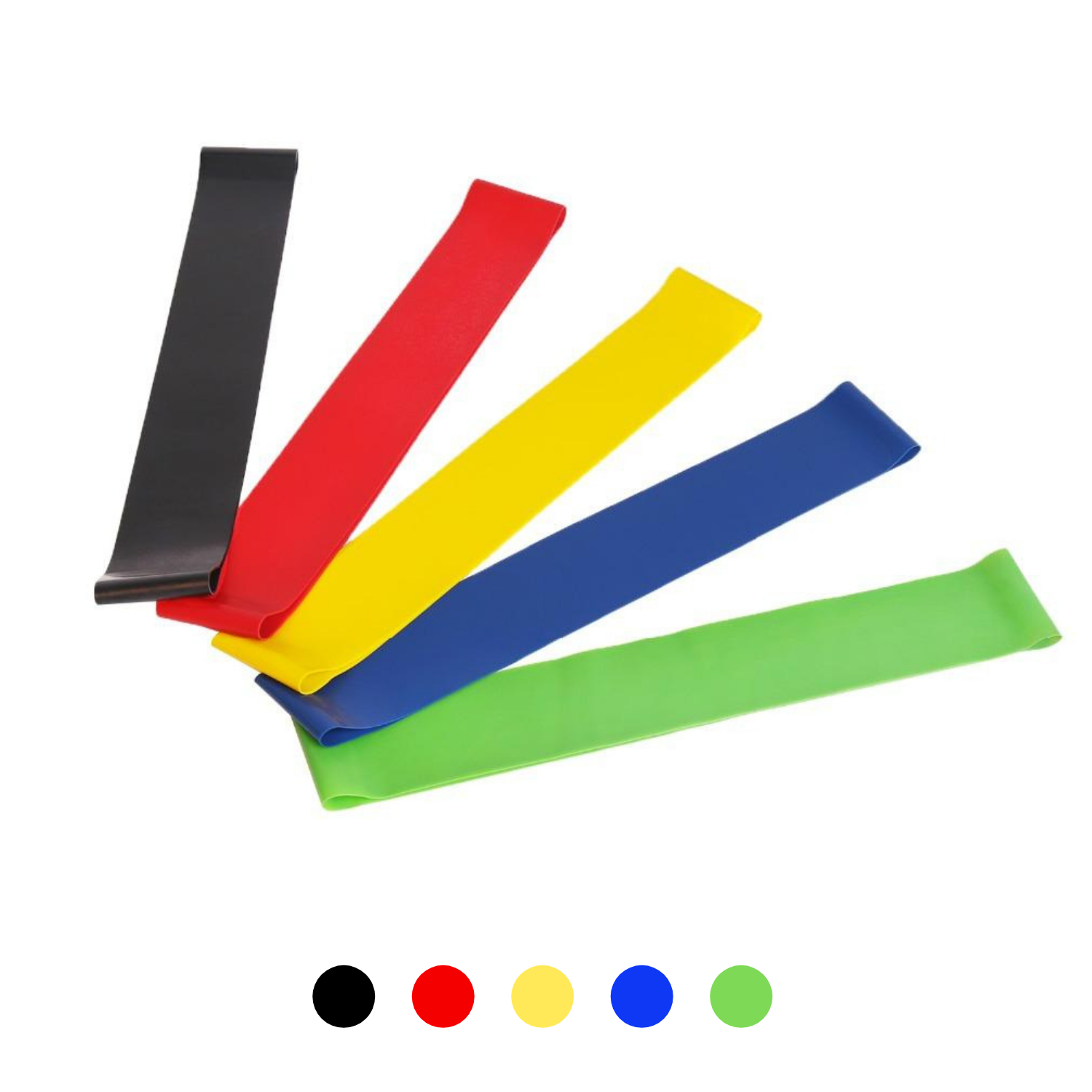 5 Piece Set of Resistance Body Bands with Carry Bag
5 Piece Set of Resistance Body Bands with Carry Bag,
5 Piece Set of Resistance Body Bands with Carry Bag


Train anywhere! JupiterGear €™s resistant body bands are great for working out wherever you are - at your fitness club, home gym, or outside. With five resistance levels, these body bands work for any user, whether you are an experienced athlete or just beginning fitness training.
JupiterGear brings you products that allow you to stay active and crush your goals. Get inspired and realize your full potential with our innovative and smart fitness solutions created with unwavering standards and an athlete €™s eye. From triathlons to your daily fitness routine to a walk along the beach, we have the products that will gear you up so you can push past your limits.
Features at a Glance:
Durable latex design
Budget-friendly and space-saving
Transportable for easy travel
Versatile for all fitness levels
Comprehensive all-body exercise tool
5 resistance levels

Yellow: Light (5 - 10 lbs)
Green: Light+ (10 - 20 lbs)
Blue: Medium (20 - 30 lbs)
Red: Medium+ (30 - 38 lbs)
Black: Heavy (40 - 48 lbs)

Useful for a variety of exercises that target the legs, core, arms, and back
TRAIN ANYWHERE:
These resistance booty bands are your go-anywhere fitness accessory for easy access to a workout €"at the beach, at home, on the field, in the gym, and when traveling. They come in a convenient carry bag or fit effortlessly into the pocket of your gym bag and can be used for indoor or outdoor activities. Whether you are squatting, bench pressing, or jumping, our resistance bands offer added intensity to your movements safely.
DURABLE DESIGN:
Made from a highly durable, natural latex rubber, these resistance body bands can be used for beginner training to obtain maximum resistance. From pull-up assistance and speed training to bicep and tricep exercises to lower body workouts involving calves, quads, hamstrings, and glutes, these bands provide the conditioning you need.
FULL VERSATILITY:
Use each band as best suits your exercise needs. Available in color-coded resistances ranging from light to heavy, these resistance bands are great for stretching and therapeutic exercises to strength training, including speed and agility training, increased resistance weight training, pull-up assistance, jumping, plyometrics, flexibility exercises, and general conditioning.
DESIGNED FOR EASE AND AFFORDABILITY:
With a simple loop design, resistance body bands are easy to put around ankles, calves, or thighs for a variety of lower body exercises, and they are great for upper-body workouts as well. And as you progress and need something stronger, you €™ll already have the heavier bands ready to go. This saves you money when compared to buying one or two singles at a time.
BUILT FOR MANY ACTIVITIES:
Because workouts change and fitness levels increase, having five resistance levels allows you to adapt quickly to many different activities, including strength training, yoga, CrossFit, Pilates, lifting, and rehabilitation.
Where do you ship?
We ship orders worldwide.
What is your delivery time?
Orders are usually shipped within 3-5 working days.
Express delivery is the next day, 3 days options and other overnight or express services you may need.
Do you accept returns?
Unfortunately, we do not accept returns for sale items or gift cards.
Unless there are problems such as delivery damage, otherwise. Any applicable courier will not be refunded.
Damage and problems
Please check your order when receiving it. If the item is defective, damaged or received the wrong item, please contact us immediately so that we can evaluate the problem and solve it.
You must contact us within 48 hours for replacement. No exchanges or returns will be accepted after 48 hours.
You can contact us at jackie@babesandbarbells.com. If your return is accepted, we will send you a return shipping label and instructions on how and where to send the package.
Items returned to us without first requesting a return will not be accepted.